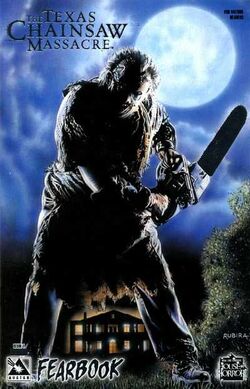 Fearbook Is A Comic In The Texas Chainsaw Massacre Comic Series
An all-new tale of terror! Romance is in the air as Valentine's Day comes to Fuller, and with it four hippies looking for a place to picnic and get high. Sheriff Hoyt doesn't have much time for loving, especially when outsiders talk back to him. One wrong word too many catapults the hippies into a world of pain, and soon it's not romance that fills the air, but the sweet smell of fear mixed with chainsaw gas!
Ad blocker interference detected!
Wikia is a free-to-use site that makes money from advertising. We have a modified experience for viewers using ad blockers

Wikia is not accessible if you've made further modifications. Remove the custom ad blocker rule(s) and the page will load as expected.