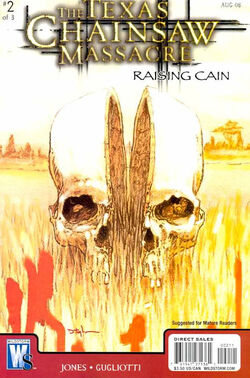 Raising Cain 1 Is a Comic In The Texas Chainsaw Massacre Raising Cain Series
The Hewitt twins, separated birth, find themselves inexorably drawn to each other as they grow up, connected by a hideous bond soaked in blood, a bond time and distance cannot begin to sever. And when the long-missing twin goes into law enforcement, more blood is sure to follow.
Ad blocker interference detected!
Wikia is a free-to-use site that makes money from advertising. We have a modified experience for viewers using ad blockers

Wikia is not accessible if you've made further modifications. Remove the custom ad blocker rule(s) and the page will load as expected.