Sheriff Winston Hoyt
Known aliases:
Sheriff Winston
Location:
South Texas
Known relatives:
Unknown Wife
Status:
Deceased
Year of birth:
1925
Year of death:
1969
First appearance:
The Texas Chainsaw Massacre: The Beginning
Portrayed by:
Lew Temple
Sheriff Winston Hoyt Is A Character Featured In The Texas Chainsaw Massacre: The Beginning. 
Biography
Edit
Sheriff Winston Hoyt  Was The Sheriff Of Travis County. And The Only Officer Left In Travis County. Due To The Fact That They All Got Killed By The Hewitt Family. In 1969 Charlie Hewitt, armed with a shotgun, shoots and kills Sheriff Winston Hoyt at point-blank range during the Sheriff's attempt to apprehend Thomas Hewitt for murdering his boss at the meat factory. Charlie then takes on the identity of the murdered sheriff.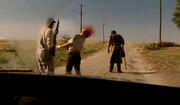 Ad blocker interference detected!
Wikia is a free-to-use site that makes money from advertising. We have a modified experience for viewers using ad blockers

Wikia is not accessible if you've made further modifications. Remove the custom ad blocker rule(s) and the page will load as expected.