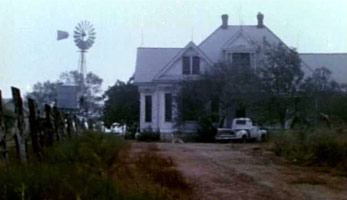 The Texas Chainsaw House (now the Junction House restaurant) is located in Kingsland, Texas on the grounds of the Antlers Hotel & Historic Railroad District. This 1900s Victorian house was featured prominently in the 1974 movie The Texas Chain Saw Massacre  before it was moved to this location from Williamson County in 1998. The then-dilapidated farm house originally sat on Quick Hill Road during the July-August 1973 filming of the movie, then sat vacant and deteriorating. The original site is where La Frontera is now located, in Round Rock. Location of The Texas Chain Saw Massacre farmhouse at Quick Hill – 30.480277°N 97.692522°WIn 1998 the house was cut into six pieces in order to be moved, then re-assembled and restored to its original condition by master carpenter Anthony Mayfield on behalf of an investor couple in Austin. The house was a "pattern book" house, ordered from a catalog and assembled on site from a package of materials brought by wagon from a local lumber company. Research indicates it was likely built between 1908 and 1910.
Ad blocker interference detected!
Wikia is a free-to-use site that makes money from advertising. We have a modified experience for viewers using ad blockers

Wikia is not accessible if you've made further modifications. Remove the custom ad blocker rule(s) and the page will load as expected.