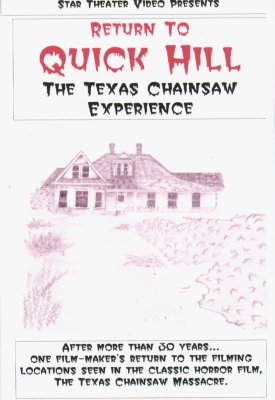 Return to Quick Hill - The Texas Chainsaw Experience Is A Film in
The Texas Chainsaw Massacre
Series
Return to Quick Hill - The Texas Chainsaw Experience is a documentary with video the film locations of the original Texas Chainsaw Massacre. From the famous gas station to the infamous "Family" house, you can experience all the major filming locations and how they appeared in 2005. Forever now is preserved on film what the volatile locations look like. This is a must for those who have been to the locations, or those who may never be able to visit them in their lifetime.
Directed by first-time film maker, Robert Inman, a native Texan who once called Quick Hill home. Written and hosted by actor/writer Jason Stewart (of The Trespassers and The George Winkleberry Show fame). It also features music by original TCM composer, Roger Bartlett and an exclusive interview with Gunnar "Leatherface" Hansen.
The DVD also features a display of original Chainsaw merchandise, additional interviews and a few extra surprises.
Ad blocker interference detected!
Wikia is a free-to-use site that makes money from advertising. We have a modified experience for viewers using ad blockers

Wikia is not accessible if you've made further modifications. Remove the custom ad blocker rule(s) and the page will load as expected.