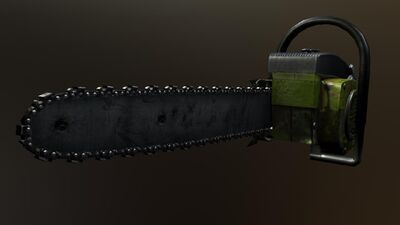 The Poulan 245A Chainsaw Is A Weapon In The Texas Chainsaw Massacre 1974
About The Poulan 245A / The Pros And Cons
Edit
The Chainsaw Is The Main Weapon Of Choice For Leatherface. He Recived It For His Tenth Birthday And Uses It To Kill Most of His Victims By Severing Their Flesh With The Saws Deadly Chain. At The End Of The Texas Chainsaw Massacre Part 2 It Is Seen In The Dead Arms Of Grandma Sawyer. And It's Fetured In The Texas Chainsaw Massacre Video Game It Made It's First Imfamous Appearance In The 1974 Film. It Has Extreme Power And Leatherface's Chainsaw Has Unlimited Gas! That's Good For Him. But There Are Downsides To This As Well To Use To You Advantage Against Him. Its Big Size Makes It Heavy Which Means Its Hard To Chase Victims. And You Have To Face Motor Malfunctions Which Eventually Leads To Their Escape. And Hard To Maintain  Without It Going Dull.
Ad blocker interference detected!
Wikia is a free-to-use site that makes money from advertising. We have a modified experience for viewers using ad blockers

Wikia is not accessible if you've made further modifications. Remove the custom ad blocker rule(s) and the page will load as expected.