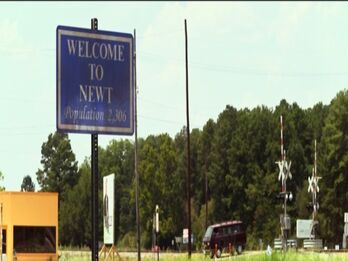 Newt, Texas
is a location in
The Texas Chain Saw Massacre
.
Info And History
Edit
Newt, Texas is a fictional location featured in the Texas Chain Saw Massacre franchise. It was first referenced in the original 1974 film The Texas Chain Saw Massacre and identified as being located within Muerto County. It was the location of a cemetery that had been the target of vandalism and grave robbing caused by a member of the Sawyer family known as the Hitchhiker.In the early morning hours of August 18th, 1973, County officers discovered the remains of a badly decomposed body wired to a large monument. A second body was discovered in a ditch near the perimeter of the cemetery. Subsequent investigations led by Sheriff Rhesus Maldonado revealed that in some instances, only parts of the corpses had been removed. The head or extremities had been found missing while the remainder of the corpses were left intact. News of the incident was broadcast on radio networks by Ray Robbin. That morning, Sally Hardesty, her invalid brother Franklin and three friends drove to the cemetery in Newt to determine whether their grandfather's grave had been one of the targets of the macabre vandalism.
Public officials of Newt, Texas
Edit
Ad blocker interference detected!
Wikia is a free-to-use site that makes money from advertising. We have a modified experience for viewers using ad blockers

Wikia is not accessible if you've made further modifications. Remove the custom ad blocker rule(s) and the page will load as expected.