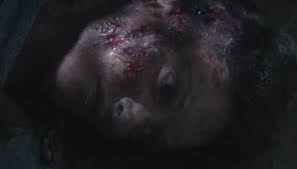 Loretta Sissy Sawyer is the birth mother of Edith Sawyer/Heather Miller. She's portrayed by Dodie L. Brown in Texas Chainsaw 3D.
Loretta was in the Sawyer house with Drayton Sawyer and other Sawyer Clan when Sheriff Hooper show up to asks them to surrender Leatherface to authorites.
Then, the mob of vigilantes lead by Burt Hartman which they proceed to burn down the Sawyer Famhouse with everyone in it except Loretta and her baby Edith.
Loretta was near death when she was confronted by Gavin Miller, a another vigilante who took her baby, kick her face hard and she died. So, Gavin and his wife Arlene took her daughter to raise as their