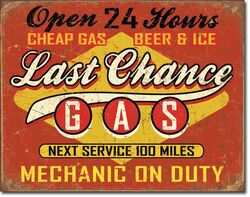 The Last Chance Gas Station Is A Location In
The Texas Chain Saw Massacre
Last Chance Gas Is A Gas Station Owned And Operated By Drayton Sawyer It Is Also A BBQ Spot Were The Sawyers Take Their Unfortunate Deceased Victims And Make Chili Out Of Them
It is located off of highway 304 in Bastrop County.  You will have to take highway 71 to Bastrop and turn onto 304 which heads towards Gonzales, TX.  But the Gas Station is a few miles down highway 304 and on the left. Interestingly enough, just across the street from the Gas Station is a cemetery. 
Ad blocker interference detected!
Wikia is a free-to-use site that makes money from advertising. We have a modified experience for viewers using ad blockers

Wikia is not accessible if you've made further modifications. Remove the custom ad blocker rule(s) and the page will load as expected.