"We wait for back-up! We do this by the book!"
― Hooper, to vigilante FBI Agent Baines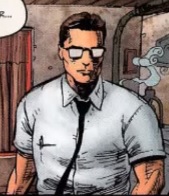 Hooper was an FBI special agent assigned to investigate the Hewitt Family in July 1974, nearly a year after their crimes were made known to the public. In Fuller, Texas, Hooper and his colleagues uncovered a town-wide conspiracy in which its entire population was an accessory to the Hewitt's crimes, including many local law-enforcement officers. The FBI team was ultimately slaughtered by the Hewitt Family.
Following the 1973 Chainsaw Massacre, soul survivor Erin alerted the public of the Hewitt Family crimes, leading to an investigation from Travis County authorities. Despite over 1300 pieces of evidence being collected from the crime scenes and the mass murders receiving widespread media attention as "one of the most bizarre crimes in the annals of American history", many of said crime scenes were not properly secured by Travis County police.[1] By July 1974, minimal arrests were made and the case had gone cold. An FBI team, led by Special Agent Hooper, was sent to Fuller, Texas, to uncover sufficient evidence in order to re-open the case. When they arrived, they seized the assets of the deceased Sheriff Hoyt and began to comb the area before finding fresh bodies in an underground tunnel leading to the abandoned Hewitt Residence.
Having insufficient resources, Hooper attempted to call reinforcements, but the Bureau was unable to spare any due to the investigation of the Watergate scandal that was taking place elsewhere. Although Hooper demanded that his team do things the book, Agent Baines disregarded these orders in favour of finding the Hewitts himself. Baines' niece had once been murdered by the Hewitt Family, and he had accepted the case with the intention of enacting vigilante justice. Members of the team went in separate directions, eventually finding that nearly the entire town (including local police) were accomplices to the Hewitt Family, and that it was unclear where the Hewitt bloodline ended because of interbreeding. With the team split up, Hewitts easily managed to kill the agents one-by-one. Hooper was killed by Jedidiah Hewitt when he came upon Luda May Hewitt cooking human flesh for her family.[2]
Appearances
Edit
The Texas Chainsaw Massacre (2007 comic series)
References
Edit
Ad blocker interference detected!
Wikia is a free-to-use site that makes money from advertising. We have a modified experience for viewers using ad blockers

Wikia is not accessible if you've made further modifications. Remove the custom ad blocker rule(s) and the page will load as expected.