"Scary? You don't know the half of it."
― The Cook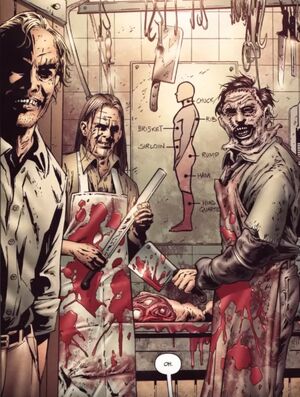 The Cook appears in the Wildstorm comics continuation of the remake series, though his cooking specialty is not chili, as in The Texas Chainsaw Massacre 2, but ribs. He is one of the modern members of the Hewitt family. He lives in the Hewitt household in Travis County with Leatherface and an unnamed butcher. As his title suggests, he specializes in food preparation and often attends the annual "Meatfest" event. At Meatfest, the Cook offers guests a sampling of his "Texas beef ribs", which are presumably made from people, not cattle.
In the comic The Texas Chainsaw Massacre: Cut!, which took place in 2007, the Cook met an amateur film maker named Mike, who wanted to make a movie based on the famous Hewitt murders of 1974. The Cook invited Mike and his three colleagues to the Hewitt house, though they were unaware that he was actually one of the cannibal family members. The Cook's family members, the butcher and Leatherface, killed the four film enthusiasts whereupon they were taken into the family slaughter room. The Cook was last seen attending Meatfest '08, once again serving up his special ribs.
Appearances
Edit
The Texas Chainsaw Massacre: Cut!
The Cook's real name is unknown in this timeline.
References
Edit