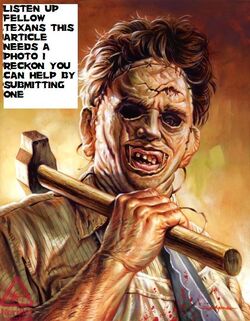 Cal Hewitt Is A Character In The Texas Chainsaw Massacre Comic Series
Biography
Edit
Cal Hewitt is the uncle to Cain and Abel Hewitt, and a cousin to Leatherface. He is shown in the comic, "Cain and Abel" helping Abel Hewitt, Jr. hunt and kill Humans for their meat. He is shown to be vicious and remorseless, even going so far as to rape a victim in front of his nephew. He is later killed by the police.
Ad blocker interference detected!
Wikia is a free-to-use site that makes money from advertising. We have a modified experience for viewers using ad blockers

Wikia is not accessible if you've made further modifications. Remove the custom ad blocker rule(s) and the page will load as expected.