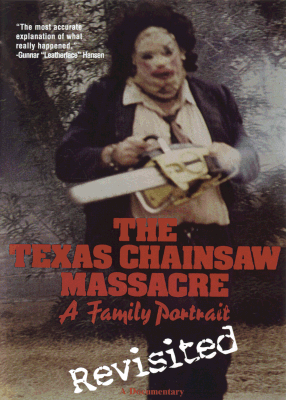 The Texas Chainsaw Massacre: A Family Portrait Is A Film in
The Texas Chainsaw Massacre
Series
"The Texas Chainsaw Massacre: A Family Portrait" was a documentary made by Brad Shellady and released in 1986 by MTI Home Video. In 2000, MTI re-released the documentary in DVD format and added more features not previously available on the original 1986 VHS release such as the original theatrical trailer. Also, some computer enhanced video tricks were included in the DVD version. Perhaps to add more excitement to the already static images filmed by Brad. Unfortunately, no one went back to correct the focus problem that was encountered during Ed Neal's interview. It has been made that this "glitch" occurred when a video format to video format transfer was incorrectly done by MTI Video. Gunnar Hansen, Jim Siedow and John Dugan are all interviewed by Brad in their homes and Ed is interviewed along side a foreign poster of TCM. An interview with Bob Burns was also conducted during the making of the documentary but none of it was included in any release of the video. Also, there exists a very rare first-draft VHS box for this video. . Both the VHS and DVD releases are available for purchase from MTI Home Video. And at last check, Amazon.Com is also carrying the video in both formats.
Ad blocker interference detected!
Wikia is a free-to-use site that makes money from advertising. We have a modified experience for viewers using ad blockers

Wikia is not accessible if you've made further modifications. Remove the custom ad blocker rule(s) and the page will load as expected.